Internet anonymity
Jump to navigation
Jump to search
Nearly every week, if not every day, certainly in the United Kingdom, there are calls from one group of people or another for a ban on what is considered 'internet anonymity.'
The fact that, for the vast majority of people who use the internet, anonymity on the internet is a very high bar to achieve, what most of these calls are for is for people to be instantly recognisable whenever they produce content on the internet, be it a MediaWiki site such as this or Wikipedia, to the comments section beneath any news story on your local paper's website; it's just very difficult, for the normal person, to verify that a particular comment was made by a particular person.
Those fighting for the removal of 'internet anonymity' want everyone on the internet to be able to tell who everyone else is easily.
Those defending 'internet anonymity' want to be able to post 'anonymously' without fear of retribution from, for example, their employers - regardless of whether what they're saying has anything to do with their employers. Or their neighbours (again - regardless of whether it has anything to do with them or not.)
Just because there are people who feel the need to advertise themselves publicly on Facebook, for example, including their every (bowel) movement, that does not mean that everyone is willing to give up their right not to be (easily) identified by their real-life peers on the internet. They want their privacy, and moves to remove 'internet anonymity' attempt to remove that privacy.
Of course, forcing everyone to use their real names won't solve the perceived problems of 'anonymity' as these two reports about Facebook show:
Anonymity?
IP Addresses
In reality, it is very difficult to be totally anonymous on the internet.
Every time you access a web page, you leave behind a record of which ISP you are using via your IP address in that sites logs.
Whether the general public can obtain that data is up to the site, but in general it's not something that's immediately accessible to someone who isn't actually involved with the site.
For example, on most MediaWiki sites, if you aren't logged in, any changes you make are recorded against your IP address. On the Revision History page of Wikipedia's Anonymity article taken on the evening of 26 Sep 2012 we have:
Shown with a darker background, we have two entries by 'username' 192.189.235.79 - this is an 'anonymous' user who edited the page.
Asking one of the numerous services on the internet dedicated to such things, if you put http://whois.arin.net/rest/nets;q=192.189.235.79?showDetails=true&showARIN=false&ext=netref2 into your browser you'll find that the company that owns that IP address (along with 255 others in this particular part of the address space) is Center for Naval Analyses.
With that information, if you want to know who made those edits, then you simply contact the CNA, and ask them "who, at 20:28 on the 18th May 2012, had 198.189.235.79 as their IP address."
Problems with IP addresses
Naturally the CNA could tell you to bugger off; and if the ISP concerned was a large one - like Verizon in the states - getting this information out requires slightly more than just a request; a warrant at the absolute minimum would typically be needed.
Additionally the authority responsible for the IP address concerned might not keep records (likely for CNA,) or they may not keep them long enough. But the theory is there - if you have an IP address and a time, it gives you sufficient information to at least get you close, if not at, the person concerned.
Unless, of course, the IP address is the single public address for a company, or a household. If you have wireless in your house, and you have more than one computer accessing the internet, then all your devices will have (to the websites they visit) exactly the same IP address. But then asking Verizon who had an IP address at a particular date still gives you the household that visited the site, and deciding who's responsible for behaviour in that household is a favourite topic of companies like the RIAA.
With companies with all their employees behind the same, the process of discovery is usually a bit trickier, but ultimately (depending on that company's own logs) it can be done; supplying them with (e.g.) an additional URL they can use to search their logs will usually allow them to find who, internally, was (ab)using a site. (Most companies record what their employees are doing on the internet. Generally no-one actually looks at them without reason, but they are recorded.)
Nicknames/Nom-de-plumes
Most private commentators on the internet tend to pick a 'handle' and try to stick to it on every forum/blog/website that uses usernames. Some of these names enter the public conciousness as 'real names,' such as when the Tobacco Tactics website wrote a page on Dick Puddlecote and stated, without apparent irony, that
Seriously, though, most times when you see a distinctive name you recognise somewhere on the internet, it will one of three possibilities:
the person you think it is, using the same name elsewhere
a completely different person who thought of the same name or
someone trying to impersonate one of the above two
.. and generally, you can tell which of them it is. Most people are happy with this situation, and feel that the voluntary nature of it lacks the bully-stateism seen evidenced elsewhere on this website.
Where this falls down, of course, is the sites that don't force such usernames tend to bring out the people who exhibit what Wikipedia calls Online Disinhibition Effect, or as most on the internet know it 'John Gabriel's "Greater Internet Fuckwad Theory"' illustrated by this Penny Arcade comic back from 2004: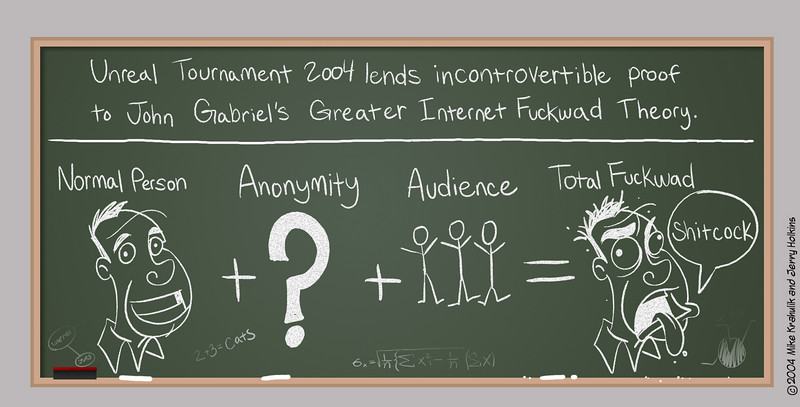 And as with minimum pricing, the solutions generally proposed inconvenience, annoy, and evoke a whole range of other negative emotions in the vast majority of the population (who care about such things) who aren't the problem, to try and fix the problem with the small minority, without actual evidence that the proposal will actually fix the problem with the small minority.
In real life
Myerson quotes the South Korean law that was rescinded (mentioned below) seemingly as if it was a bad thing:
Perhaps, deliberately, ignoring the fact that it was viewed as a method by the Korean government to chill free speech, especially political speech.
Myerson goes on:
.. failing to spot the fact that there wasn't just one law, there were a series of laws going back to 2003 through to at least 2010, and in his apparent exuberant haste to use a quote with the word 'toilet' in it, Myerson appears to have failed to give hints to which national assembly member it was, why this quote was made, and when it was made.
In fact it was the suicide of Choi Jin-sil, whose suicide was 'blamed' on the internet, and the quote comes from 4 years previously (perhaps there weren't any more recent toilet quotes to be used?):
Myerson then goes on to ignore the privacy issue with 'real names on the internet':
Well, for a start, there's all those gay people who are 'in the closet' who aren't too keen on being outed at a time not of their choosing.
Not too keen on gay-rights? How about those vocal on the internet about matters political, who if their views were known to their friends/relatives, would be ostracised?
Oops - back to the chilling of political speech there. Don't want that.
What about whistle-blowers? Ah - Myerson has a solution!
Meyerson, however misses the point that people want to be 'in the closet' or 'have political views' or to use his own words 'to speak freely, to be outspoken,' and 'critical' on the internet, and his 'solution...' isn't one.
And from the summary of another commentator on this article:
South Korea online verification law rescinded - Aug 2012
From 2003, South Korea had introduced a mechanism whereby some people using the internet had to verify themselves, culminating in 2010 where anyone posting to the internet had to verify their identity:
This was eventually overturned in Aug 2012 by a court when free-speech advocates claimed the laws were being used as a chilling-effect against political dissidents and was curtailing free speech:
References