The Tobacco Template
Jump to navigation
Jump to search
It has been claimed, by ASH (Deborah Arnott), on February 2012 that:
Previously Simon Chapman on May 30 2011:
And subsequently, Simon Chapman again in August 2012:

Sadly, it is their statement that is false, not the domino theory/slippery slope. This page lists attempts by organisations and governments to copy the 'tobacco template' in order to denormalise users of, or reduce consumption of, products.
General Controls
General stuff not covered below
The Guardian; CIF - Demonising junk food for the children - 14 April 2012
Aseem Malhotra, a 'cardiology specialist registrar'[4] starts off his polemic with the title and subtitle:
Followed by an image of some extremely obese British kids gorging themselves on fast food: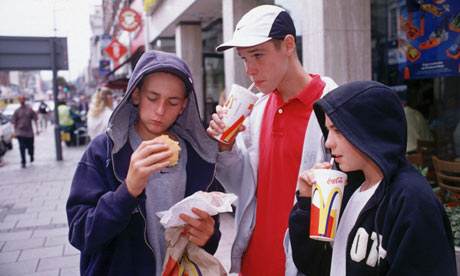 Quite.
Why should schools dictate to parents how to feed their children in such a manner?
When did secondary schools stop providing 'home-economics'? And I can see the elf and safety groups jumping on the idea that a 5 year old should be operating an oven. Then again, I may have just answered my first question.
The Guardian; CiF - Alcohol and Obesity
GAPC - Alcohol
"What worked for Tobacco Control?" - Ms. Shoba John[7]
"Control marketing: lessons learn from tobacco control movement" Ms. Bungon Ritthiphakdee[7]
MD, PhD and a DrPH, California - Sweeteners
Added sweeteners pose dangers to health that justify controlling them like alcohol, argue Robert H. Lustig, Laura A. Schmidt and Claire D. Brindis[8]
And they claim it contributes to 35million deaths a year worldwide and is so dangerous it should be controlled through taxation and legislation.[9]
Higher Taxes
Ever higher taxes are imposed with the belief that they will either (1) increase the tax the government receives or (2) reduce consumption by pricing consumers out of the market. (Obviously it can't do both at the same time.)
However, unintended consequences occur in the form of (a) increased sales on the black market and/or those (legitimately or not) obtaining their supplies from abroad and (b) increase in poverty because the hardest hit (and of which, demographically, tend to smoke more) are the poor who are either unwilling or unable to cut down or give up.
Minimum Pricing, while not increasing the tax-take to the government, is a form of this.
Mike Rayner - Department of Public Health at Oxford University - food - May 16 2012
Thomas Gaziano, Harvard School of Medicine - salt - April 21, 2012
Sadly there was either insufficient funding, or insufficient time to determine the incidence of Hyponatremia (and the associated costs) that this would cause as a result.
Denmark - October 2011
Doctor - Wales - fatty foods
An expert on obesity has called for a tax on fatty foods to help reduce the number of overweight people in Wales.
Dr Nadim Haboubi runs a weight management clinic and has advised on government strategy to tackle obesity[15]
United Nations - food
In De Schutter(2011), it looks towards "Using taxation to encourage healthy diets" (page 17)
Bans
UK Doctors - Kids watching TV - 9 Oct 2012
For the Children, we have:
So we've progressed from Tobacco -> Alcohol -> Kids watching TV. The slope not very slippy then.
And as one wag on the internet pointed out:
Onwards...
Hmm - someone's got a book to push. Not that Dr Aric Sigman has any sort of agenda:
Back the the original article; what evidence do we have?
Ah. None. They're guessing again.
More guessing.
Fortunately (and unusually) within the same article we have a differing point of view:
Russian Government - Proposal to ban children from public WiFi - 5 Oct 2012
Suffolk Police - UK - 'Super-strength beer and cider' - 26 Sep 2012
But it would appear they aren't being asked to stop selling 'super strength' spirits...
And I have no doubt it won't be the last of its kind in the UK.
50 shades of Grey - MSM passim - Aug 2012
First up, we have the (possibly fake) charity Wearside Women in Need set up in 1981 who, by August 2012, had only managed to file accounts up to 2009[22], where business-type income such as "collecting rent" on properties is considered "incoming resources from charitable activites"[23], and on their website describes what they do in the areas of "Women's services"[24], "About us"[25], and "Training" [26] are all "under development.":
Yes - apparently the 7th century past-time of libricide[28] is making a comeback to the unenlightened in the 21st century.
Next, thinking of the children we have children's author GL Taylor:
Shocking. Finally we have BBC reporter Tom de Castella in his article titled "Fifty Shades of Grey: Are children able to buy it?":
Naturally following Betteridge's Law of Headlines, the answer from the bookshops is "No."
The EU - Coffee Grounds as pest control - MSM passim - 28 Aug 2012
It appears that due to the unique way in which the EU is funded, they have nothing better to do than to make illegal the use of coffee grounds as a pest control substance by gardeners.
To pick one article at random (there are so many):
Of course, they haven't been so silly (yet) to make coffee grounds totally illegal in the garden; just for deterring slugs:
The workaround, as is usual for such silly EU laws that can be gotten round, is a loophole:
Drummoyne Public School - Australia - Exercise for Children - 27 Aug 2012
Apparently too much exercise is bad for some children in Australia:
Lucy Holmes - UK - Tits on Page 3 of The Sun - 26 Aug 2012
Lucy Holmes, a women's rights activist, and "Television and Radio Personality and the worlds greatest Kylie Minogue Tribute Artist"[33] petitions Dominic Mohan, the current editor of The Sun newspaper, to stop its 42-yr old[34] tradition of showing topless models on Page 3.
Lucy's contribution to women's rights, it appears, is to remove their right to be photographed and be paid for it. Because Lucy doesn't like it, no one else must be able to like it.
Her arguments, however, seem to be a bit flawed; for example the reason the 6 o'clock news and This Morning don't show topless women is because they're not allowed to because of the watershed on TV[36].
And if MS. Holmes has an objection to children seeing naked breasts, I cannot wait for her campaign to stop women breastfeeding their own children. Especially in public.
Health Officials - New Zealand - 'Fast Food' - 6 Aug 2012
Michael Bloomberg New York - Giving out milk formula to new mothers - 30 Jul 2012
UK - Sale of video games - 30 Jul 2012
In another example of Grandad's Law the PEGI ratings system now has the force of law behind it instead of being merely 'guidance.'
Simon Chapman - Secondhand Sunbeds - 1 July 2012
ScotRail - alcohol (and drunks) - July 2012
They appear to expect drunk people (not carrying alcohol) to pay extra for taxis instead of using their trains.
Middleborough, Massachusetts - Swearing - 11 Jun 2012
Calls for a repeal on 10 Oct 2012:
Scotland - multi-buy ban doesn't work - June 2012
However, they still want minimum pricing:
New York City Board of Health - supersized drinks and popcorn - June 2012
New York Times Debate - air conditioning - June 2012
National Obesity Forum (UK) - fizzy drinks - May 2012
Assemblyman William Monning (California) - food vans 'outside schools' - Feb 2012
In an effort to stop kids from running away from their 'healthy school meals' Assemblyman William 'Bill' Monning decided that was was needed was bill that bans food truck operators from vending within a quarter-mile of any school. Businesses were not happy at the unintended consequences:
Unfortunately for Mr. Monning, but fortunately for all those businesses affected, the bill was dropped. Not because he realised it was a bad idea, but:
UK Heart Surgeon - Butter - Jan 2010
UK Parents - Childrens' books in Libraries
Bans - Advertising
This covers not only direct advertising (identifiable adverts in media) but 'indirect' advertising; e.g. no smoking allowed in children's films (Think Cruella DeVille from 101 Dalmations)
Children's Food Campaign - Sports Events - 26 July 2012
More Grandad's Law in action:
Children's Food Campaign is a part of Sustain - an 'alliance' partially funded from grants from government and government related sources[54]. For the financial year ending 2011, of £2.1M income, at least £0.64M was from either government directly, or government funded organisations. This number rises to at least £1.3M if funds from national lotteries are included.[55]
UK Doctors - alcohol - June 2012
Chief Constable Jon Stoddart of Durham - alcohol - March 2012
FakeCharity Sustain (UK) - sweets
Sustain (a FakeCharity[58]) wants to ban supermarket sweet displays[59]
UK Government - alcohol
Following the publication of the Government's Alcohol Strategy, the Health Committee is to hold an inquiry examining the Government's proposals so far as they relate to health issues, and in particular will look at: [...]
Plain packaging and marketing bans.[60]
United Nations - food
50 (c) Adopt statutory regulation on the marketing of food products, as the most effective way to reduce marketing of foods high in saturated fats, trans-fatty acids, sodium and sugar (HFSS foods) to children, as recommended by WHO, and restrict marketing of these foods to other groups; De Schutter (2011) page 21
Scottish Government - fatty foods/salt/sugar
Television adverts for food high in fat, sugar and salt should not be shown before the 9pm watershed, according to Scotland's public health minister.[61]
US Researchers - Alcohol in films
The results suggest that family focused interventions would have a larger impact on alcohol onset while limiting media and marketing exposure could help prevent both onset and progression.[62]
Australian government - 'junk' food
Greens leader Bob Brown introduced a private members bill last Monday to ban junk food advertising during children's television viewing times of 6-9 am and 4-9 pm on weekdays, as recommended by the Obesity Policy Coalition.[63]
BMA - alcohol advertising
There should be a ban on all alcohol advertising, including sports and music sponsorship, doctors say.
The British Medical Association said the crackdown on marketing was needed, along with an end to cut-price deals, to stop rising rates of consumption.[64]
Howard Stoate (Dartford, Labour, UK) - alcohol advertising
The only sure way to tackle the problem is removing the alcohol industry's ability to target young people in that way. Banning alcohol advertising and sponsorship from events that are attended by children and young people, or watched by them on TV, is one way to enable young people to develop a healthier relationship with alcohol.[65]
Gory Pictures/Warning Labels
Gory pictures on packets are supposed to deter (potential) smokers. Typically the medical type photographs show nothing that smoking could have caused (perfectly white teeth affected by dental caries, totally blackened lungs when we know smokers lungs are used for transplants, etc.) Warnings usually go ignored.
BMA/Doctors - Sweets - June 2017
WCRF - Salt - 23 July 2012
Sadly, the article is also full of weasel words: "may reduce," "can lead to," "recommended daily limit," "could be avoided," with little to no evidence that a moderate amount of salt is bad for you without risking hyponatremia.
United States - Soft drinks - 20 july 2012
BMA - Wine
[T]he British Medical Association is currently demanding that graphic warnings be placed on wine bottles and wants – in their own words – "a complete ban on [alcohol] advertising as has been done very successfully with tobacco." [69]
Plain packaging is claimed to reduce the appeal of cigarettes. None of the studies (since it has not been put into practice yet) have conclusively proved that this is the case. Graphic warnings likewise are intended to reduce the appeal. Most are ignored by smokers.
Feminist Groups - Lads Mags - Aug 2013
Unlike the Co-op (below), who merely want the magazines covered up, some want to go further with outright censorship:
Co-op supermarket - Lads Mags - Aug 2013
Two of the magazines immediately refused:
The Lancet - food/alcohol - 25 Aug 2012
In a study that finds it takes longer to drink a poncy French lager if you put it in a straight glass than it would if it was either lager or a soft drink in a fluted glass, they discuss the current state of affairs in the UK with regard to the variety of glasses available in pubs in which drinks may be served:
UK Government - food/alcohol - June 2012
But as the article points out, it specifically doesn't include alcohol in their statement.
What the article doesn't point out, however, is the obvious:
South African Dental Association - Alcohol - May 21 2012
Australian health activists - alcohol
Health activists who believe even one alcoholic drink can cause cancer are lobbying MPs in Canberra (Jul '11) for limits on how much we consume and how much we pay for it. If they're successful in branding alcohol a carcinogen it could lead to tough restrictions similar to those applied to tobacco, including warnings on labels and laws requiring plain packaging.[79]
UK Government - alcohol
References